MAKE ER24 YOUR PARTNER IN WORKPLACE SAFETY.
More than ever, it is vitally important for companies to focus on their clients and employees' health at the workplace. ER24 provides a full spectrum of specialty services that will provide the necessary health checkpoints for your workplace to function within the South African government's regulations and restrictions.

ER24 CONSULTING SERVICES
We conduct a complete risk assessment and develop workplace protocols that are unique to your environment while meeting international standards. Some of the services ER24 offers includes:
•       Risk assessment of:
-    The nature of the company's services
-    Workforce profile
-    Geographic location of workforce
-    Practical mitigation measures
-    Feasibility of mitigation measures
Development of client-specific workplace protocols and standard operating procedures including the prevention of the spread of infection
Helping clients meet requirements for proper screening of staff with COVID-19 symptoms, including a symptom checklist as well as temperature assessment
Implementing escalation and self-isolation requirements
Meeting PPE and hygiene requirements for the work environment
Introducing social distancing measures which need to be implemented in the workplace
ONSITE COVID-19 SCREENING
Convenience at your door with ER24 screening services that provide onsite specially trained health-and-nursing practitioners with the necessary medical equipment to provide:
Staff, contractors and visitor COVID-19 screening at designated entrances
COVID-19 awareness training for company staff and approved contractors
Escalation to client management of suspected COVID-19 cases, including offsite testing and self-isolation
Weekly and monthly reporting of COVID-19 activities
ER24 medical staff members have the direct support of our 24-hour Call Centre through which Covid-19 Positive patients are connected to ER24 doctors for additional clinical guidance and consultation.
ER24 is committed to providing a quality and compliant services under strict clinical governance in line with International best practice.
SUPPLY OF PERSONAL PROTECTIVE EQUIPMENT (PPE)
Protection is key and ER24 provides quality PPE (subject to availability) to prevent transmission and spread as well as contamination of work surfaces:
Three-layer surgical face masks
Hand sanitiser 500ml medical grade
Gloves non-powdered Nitrile   
Handheld infrared thermometers
Protective face shields
Other PPE or medical equipment according to company requirements and availability
ER24 can organise quality sneeze/cough screens through our supplier network
ACCESS TO COVID-19 INFORMATION PORTAL
Stay up to date with instant access to our online portal developed by ER24 and Mediclinic that includes the latest updates from the NCID. The portal also provides access to:
Documents and downloads such as:
COVID-19 summary sheet
COVID-19 signs and symptoms
COVID-19 precautions and monitoring
Preventing the spread of COVID-19
Self-isolation and home precaution information:
Frequently asked questions about COVID-19
Regularly updated COVID-19 statistics for South Africa
COVID-19 Online assessment for testing
ACCESS TO PANDEMIC SUPPORT LINE
As and ER24 client, your employees will have access to a 24-hour dedicated helpline to answer all their questions and give guided support when they need it most. The services included:
Telephonic risk assessment in accordance with patient safety and National Communicable Disease guidelines
If indicated through the risk assessment, the call will be transferred to an ER24 clinical practitioner or trauma support counsellor who will:
- Complete the telephonic clinical assessment of patient
-     Provide further guidance on next intervention for patient including transportation, admission, self-isolation or referral to a health practitioner
-     During these emotionally stressful times, ER24 has a team of trauma counsellors available for group or individual counselling
PREMISES AND FLEET SANITISING
Should an employee test positive for COVID-19, it is important to immediately and effectively sanitise the affected area. ER24's misting sanitising service complies with government health protocols and proofs efficient in combating airborne pathogens, also in large areas that require rapid re-entry. Why misting sanitising works:
Low volume disinfection misting involves using a misting machine to generate a cloud of extremely small droplets (15 to 30 microns) of a disinfectant liquid. The application of disinfectants and biocides using this method can significantly reduce the number of pathogens both on surfaces and in the air.
The droplets can settle on inaccessible areas that may be difficult to reach using conventional cleaning methods.
Rapid low volume misting enables the treatment of large areas in a short space of time to quickly break the chain of infection.
The mist sanitiser is a SABS certified 70% alcohol-based.
Premises must ideally not be occupied and staff will have to be vacated for the period of the sanitation, and for at least 15 minutes after the process. Ventilation can then return to normal.
It is not necessary to cover computers, switchboards or other electronic equipment.
There is no residue and the mist sanitiser will not damage papers or documents.
All food must be in containers and covered.
All aquariums or indoor Koi ponds should be covered.
The misting application cannot be operated near any open flames.
ER24 VIRTUAL APP
ER24 will provide clients access to the ER24 virtual app (on iStore and Google Play stores). The services will be customised for clients and will include the following:
COVID-19 self-assessment screening and escalation to the 24/7 Client Support Line if medically indicated during the self-assessment screening.
Depression and Anxiety self-assessment screening and escalation to the 24/7 Client Support Line if medically indicated during the self-assessment screening.
Other self-assessment screening and escalation options as they are made available, e.g. cardiovascular or diabetes.
ER24 'Emergency Button' for escalation to the 24/7 Client Support Line for further support.
Access to ER24 content (articles, videos, etc.) including options for the client to be notified.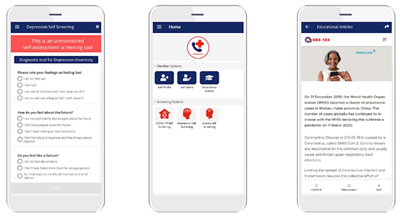 Note: Access to the ER24 consultancy services will be dependent on the company requirements, geographic location and availability of ER24 medical staff at the time of the request.
For more information on our COVID-19 services.
ER24 is considered an essential service under the South African Health Act. Our 24-hour Emergency Contact Centre and Road Ambulance Operations are available during the nationwide lockdown. As an ER24 client, you are able to access our services by calling 084 124.