Download a variety of sticker packs which can be used in your WhatsApp and iMessage apps.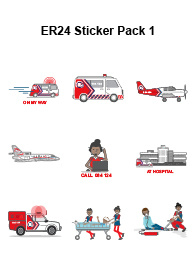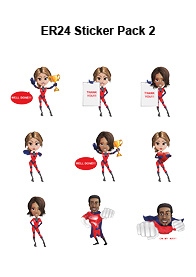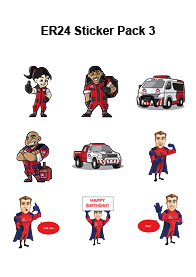 How to Download and Install Packs
Click on the 'Download Sticker Pack' button. This will open a new window in your phone's internet browser. It will prompt you to access the sticker pack via the Sticker.ly app.
Download and install the free Sticker.ly app from Google Play or Apple Store (if you have not done so already). If you have the app installed, click on the link and it will prompt you to open the sticker pack in the Sticker.ly app.
Once the sticker pack has loaded in the Sticker.ly app, you can click to install it on WhatsApp or iMessage. This will open the respective apps and prompt you to save it to your phone.
Searching the Sticker Packs on Sticker.ly
You can also search for the sticker packs manually on Sticker.ly. Type in 'ER24' in the search tab and the sticker packs should load.
Disclaimer
The iMessage, WhatsApp and Sticker.ly brand is in no way associated or endorsed by ER24. Sticker.ly is an online platform from SNOW Inc. and is not associated with ER24. ER24 only owns the rights to the images and stickers created by ER24 and do not own or have rights to any other brands, stickers or text associated with the platforms. Respective rights to the owners of the brands.