The Absa Cape Epic is known as one of the toughest mountain bike races in the world – and this would be a challenge for any normal athlete. But when it comes to challenging conditions, two former British armed forces athletes are pushing the limits and awareness around what is possible for amputees.
Both Jaco van Gass (British Armed Forces Parachute Regiment) and Stu Croxford (Duke of Lancaster's Infantry Regiment) are competing as the KT18 team during this year's Absa Cape Epic. The name references the British Defence Medical Rehabilitation Centre that helps injured military service personnel. Jaco has an arm amputation at the elbow as a result of an injury sustained during his second tour of Afghanistan.  Stu rides with a right leg amputation following a series of injuries sustained to his feet – including an improvised explosive device detonating beneath his vehicle in 2012.

The challenges of the race are enormous but are simple things make their race more heroic – such as Jaco having to implement brakes and gears on one side of the handle bars because he can only use his right arm to perform these tasks. Stu's challenges include having less power available on steeper climbs as he cannot transfer the power standing out of the saddle through his prosthetic leg. These are all accepted as part of the toughest cycle race – and it is definitely not holding them back.
As the Mediclinic team encounter them on the route, they are always positive about the experience, demonstrating their intention of pushing the limits of possibility for amputees through some determined riding.
Water points are ideal for caring for the tender areas where amputations were carried out – but seeing them in action brings a world of revelation. Within two minutes both riders have taken care of their basic medical needs and are amped to be back in the saddle again, riding on to the next water point. Quick words with the team indicated that they were going well and happy with their progress.
Dr Darren Green, Race Doctor to the Absa Cape Epic, explains Mediclinic's role in this event, "While we are always conscious of wound care and other strains the race may have on the riders' bodies, these two riders obviously have a routine that keeps them fit and competing. It is simply our job to make sure that our team is available for them if they have concerns – and to monitor and support them in this amazing journey."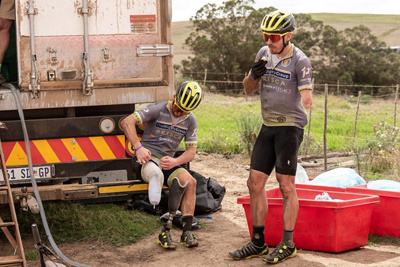 Jaco has attempted Mount Everest (the weather had other plans) and has summited both Denali and Aconcagua (the highest peaks in North and South America) while Stu has his eyes on a stand up paddleboard race down the Yukon in June. Their focus for now, however, is definitely on demonstrating how broad the opportunities can be despite the physical setbacks they may have experienced. "We want to raise awareness and funds – the Wigley Support Fund supports and trains injured, serving and veteran soldiers, equipping them with new skills for a new start. It is also our hope to bring more service-men and –women to participate next year!" says Jaco.
"We know that the Absa Cape Epic attracts a number of really strong athletes, we have had a heart transplant recipient and other riders with dramatic medical histories successfully complete the race. This is what makes the Absa Cape Epic race great. We simply need to understand their medical needs and remain available to them throughout the event should they need us. Many of these extreme athletes know their bodies well – but medical expertise is always available – whatever the medical history," explains Dr Darren Green. He adds, "Experiences such as this showcase the tenacity of the human spirit and makes our job even more rewarding as we experience their success alongside them."
Never known to shy away from a challenge the Jaco and Stu have already successfully completed two stages of the race, and the Mediclinic team remains ready to assist Jaco and Stu, as well as all other riders taking on the 2019 Absa Cape Epic. We wish them well as they continue their journey across the mountains into the Cape Winelands.