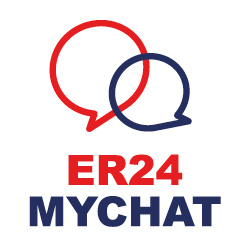 ER24 MYCHAT APP – OUR ER24 COMMUNITY NOW ON YOUR DEVICE
The ER24MyChat app is easy and quick to access. Developed exclusively for ER24 employees, the app gives you instant connection to newsflashes and important business information. Access the app today to stay connected with your team and the broader ER24 community in a secure, private digital space while you are on the go!
Type https://er24mychat.er24.co.za/ into the address bar on your mobile device's browser and use your Mediclinic email address and password to access the app.

Use the quick guides below to find out how to add the app as a shortcut on your home screen or to find out more about the chat functionality offered on the app.

Please email er24mychat@mediclinic.co.za if you require any assistance.